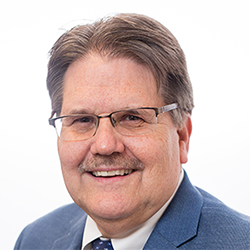 Larry D. Mann, MD
Raleigh, NC
Pediatrician
Larry Mann, MD is a pediatrician at Jeffers, Mann and Artman Pediatrics and Adolescent Medicine in Raleigh.
Dr. Mann has been a primary care provider for 30 years and is an advocate for patients and independent providers. He believes strongly in providing quality, cost-effective care for patients; he feels that understanding data, care management, and behavioral health integration will be key to improving efficiency and cost. Dr. Mann is excited about the collaborative nature of CCPN, enabling independent providers to develop solutions together about how best to move forward.
Dr. Mann was born and raised in Princeton, West Virginia. He attended medical school at Marshall University in Huntington, West Virginia and completed his pediatric residency and chief residency at the Ohio State University Children's Hospital. He is board certified and a Fellow of the American Academy of Pediatrics.
Dr. Mann joined CCPN as a Board of Manager in January 2017.