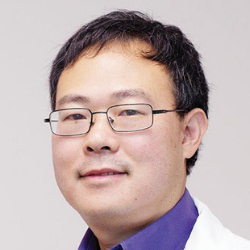 Stephen S. Hsieh, MD
Lexington, NC
Internal Medicine
Stephen Hsieh, MD began practicing medicine in Davidson County, N.C. in 1998 and continues to work in this underserved county. He started his own medical practice, High Rock Internal Medicine, in 2000 and currently remains in private practice.
Dr. Hsieh provides health care to the vulnerable and underserved populations of North Carolina. He is active in Community Care of North Carolina (CCNC) where he serves as the physician lead for the local Provider Focus Group of Project Lazarus. In 2014, CCNC awarded Dr. Hsieh their inaugural Health Care Quality Award.
Dr. Hsieh joined the Board of Managers in March 2016; he celebrates that CCPN is led by clinicians and encourages other CCPN providers to join a CCPN committee in order to ensure their voice is heard.
Dr. Hsieh also serves at Wake Forest Lexington Medical Center as the vice chairman of medicine and on the Peer Review and Credentialing Committee. He serves on the Volunteer Faculty Member Physician Assistant Advisory Council with the Wake Forest School of Medicine and the Student Precepting Physician Assistant Program with Wake Forest School of Medicine and High Point University. He serves on the Cigna Healthspring Triad Key Council.
Dr. Hsieh attended Duke University and graduated with a Bachelor of Science degree in Zoology in 1990. He completed his medical education at Wake Forest University, and completed his residency in internal medicine from Wake Forest Baptist Medical Center in 1998. Dr. Hsieh is board certified by the American Board of Internal Medicine.