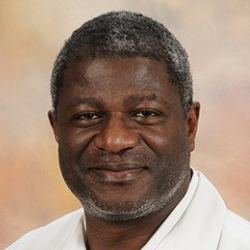 Tagbo Ekwonu, MD
Charlotte, NC
Family Medicine
Tagbo J. Ekwonu, MD is a family medicine physician at Eastowne Family Physicians, PA in Charlotte.
A graduate of the University of Nigeria College of Medicine in Nsukka, Nigeria, Dr. Ekwonu then went on to complete both an internship and a residency at the Bronx-Lebanon Medical Center in Bronx, New York. Dr. Ekwonu is board-certified by the American Board of Family Medicine and holds additional certifications from the American Academy of Addiction Medicine and the American Academy of HIV Medicine.
Dr. Ekwonu is affiliated with the American Academy of Family Physicians, the American Medical Association, the American Academy of HIV Medicine, and the HIV Medical Association. Dr. Ekwonu's goal is to provide the highest quality care for the entire family.
Dr. Ekwonu joined the CCPN Board of Managers in June 2018. He believes CCPN's resources, such as group purchasing and assistance with quality reporting, can help primary care practices become more efficient and effective in their care delivery. CCPN has given Dr. Ekwonu a renewed sense of optimism for the future, and he wants to do the same for other independent clinicians across North Carolina.